RESEARCH GRANT 2022
Introduction
Huge congratulations to Dr Garan Jones from the University of Exeter, who has been awarded this year's £30,000 grant for research into 'Alternate splicing and the pathology of Small Intestine Neuroendocrine Tumours (SI-NET).
The grant has been generously supplied by Neuroendocrine Cancer UK. Pictured here from left to right: Dr Debashis Sarker, Chair UKINETS Research Committee; Dr Garan Jones; Catherine Bouvier, Co-founder and CEO of NCUK
The research project is titled "Determining the role of alternate splicing in the development of Small Intestine Neuroendocrine tumours (SI-NET)".
 Alternative splicing is the process whereby parts of the same gene are joined into different combinations, which leads to related but different protein structures. This has been shown to have a role in the development of other cancers and this grant will support us to investigate whether this occurs in small intestinal neuroendocrine tumour development.
We will do this by reading the sequence from the intermediate step between the gene and the produced protein, the messenger Ribonucleic Acid (mRNA), which will highlight the altered forms of this molecule leading to the production of misfolded forms of proteins, and in turn the development of cancer.
We will use a cutting-edge novel sequencing technology, Oxford Nanopore long read sequencing, which will allow greater resolution for identifying different forms of mRNA expressed in small intestinal neuroendocrine tumours. This is the first time this technology has been utilised in neuroendocrine cancer development. We are looking forward to working with our international collaborators who bring expertise in alternative splicing in cancer.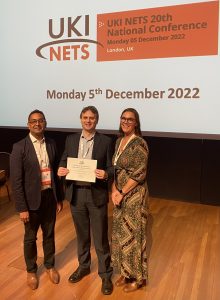 Recent Grant Awardees
2021
Presented to:
Dr Melissa Frizziero, (The Cancer Research UK Manchester Institute, University of Manchester and Christie NHS Foundation Trust) for:
Epigenetic-based biomarker discovery for Extra-Pulmonary NeuroEndocrine Carcinoma (EP-NEC)
Feasibility of serial methylation-based circulating tumour DNA (ctDNA) analysis in patients with advanced EP-NEC, and its potential utility for biomarker discovery and personalised medicine.
EP-NEC is a lethal cancer with increasing incidence and a lack of effective treatments. Biomarkers to inform patient management and drug discovery are warranted. We propose that methylation profiling of matched DNA tumour tissue and serial cell-free DNA (cfDNA) from EP- NEC patients can provide a sensitive method for ctDNA detection for patient stratification and monitoring, and can define heterogeneity of EP-NECs to reveal specific clinical vulnerabilities.
2020
Huge congratulations to Dr Marc Ooft, Consultant Histopathologist, King's College Hospital – the recipient of the 2020 NCUK Research Grant. The grant will fund a study entitled 'Improving patient stratification through epigenetic and tumour microenvironment analysis of the 100,000 Genomes project Neuroendocrine tumour cohort.'
The 2020 grant was awarded at our 18th National Conference Online, and is supported by NCUK, including a generous donation of £10,000 from Mr P Moxham
Since 2013 there have been 6 research grants awarded through funds raised by Neuroendocrine Cancer UK (formerly NET Patient Foundation) and UKINETs. The objective of these grants is to offer support for NET research groups to obtain pilot data leading to larger comprehensive studies. To date, all recipients have achieved this objective.
For each grant call there has been an enthusiastic response from NET research groups throughout the UK. The quality of the applications to date has been extremely high, and following external peer review, four applications have been funded. The projects funded to date are summarized below and have furthered our knowledge of NET epidemiology, early diagnosis and biology.
The TransNETS committee was replaced by the UKINETs Research Committee in early 2016. This committee will oversee the application process and award of future NET Patient Foundation grants.
Dr Chrissie Thirlwell, Chair, UKINETS Research Committee
Read more about previous grants