UKINETS Webinar Series
Welcome to our new series of webinars. We will be holding a series of webinar events, delving into a wide range of NET related clinical challenges. Our second webinar – Liver Transplantation in NETs – will be available to view very soon…
NB Our Liver Transplantation in NETs webinar has been awarded 1 CPD point – please see below.
The first is entitled "Nutrition in NETs" – it is available to watch here…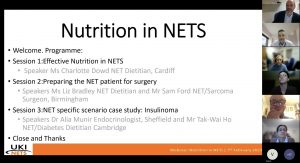 Your online application for CPD approval for 'Liver Transplantation in NETs' (code: 145403) has been approved for 1 credits, and the activity is now live on the database. Please issue certificates of attendance and maintain an attendance list for a minimum of five years. On certificates of attendance please state 'Liver Transplantation in NETs' has been approved by the Federation of the Royal Colleges of Physicians of the United Kingdom for 1 category 1 (external) CPD credit(s). Full conditions of approval are listed in our guidelines.