Membership Fees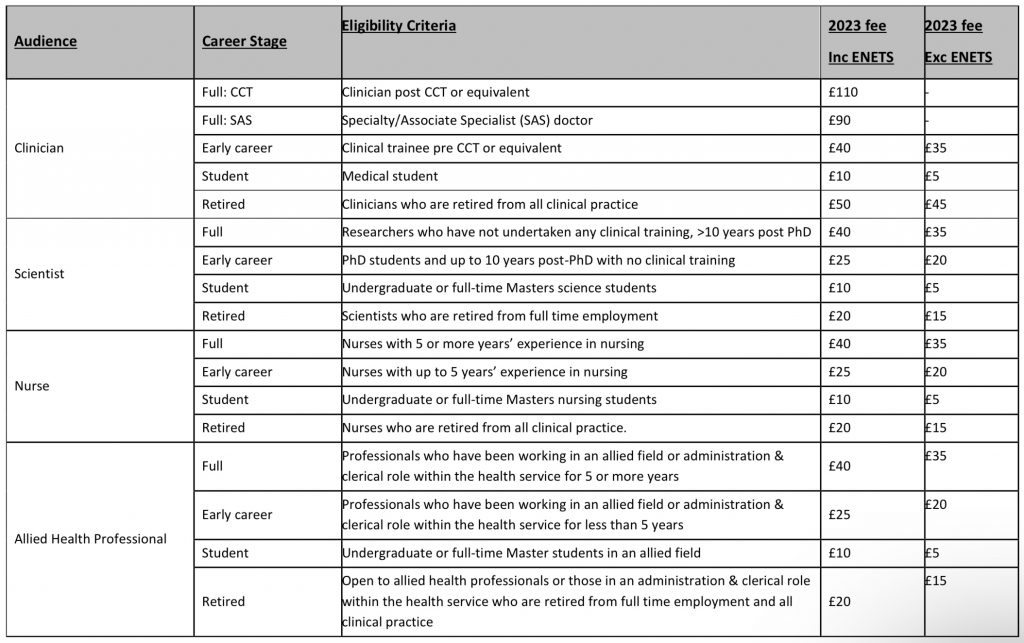 Application for UKI NETS Membership
Applications are now invited for membership of the UK and Ireland Neuroendocrine Tumour Society (UKI NETS). Please follow the link below to apply for membership via our online application form:
The inclusion of ENET's membership is optional for all member categories and career stages expect Clinician: Full CCT and Clinician: Full SAS.
Early Career and Student Members must also provide a signed declaration from their Head of Department/Course Tutor to verifytheir career stage. Please view the declaration form here.
Applications will be reviewed by the UKI NETS Secretary on a monthly basis. After approval, applicants will receive correspondence from the UKI NETS Office confirming their membership.
The membership year runs from 1st January to 31st December. Applicants will be expected to pay the full year's membership fee in their first year, regardless of when their application is approved. The membership fee will not be reduced on a pro-rata basis. If you apply for membership during the period 1 October to 31 December, your membership payment will cover the remainder of that year and all of the following year. Membership renewals will be requested in October.
Members who have not paid their annual membership fee will not be entitled to vote at Annual General Meeting.